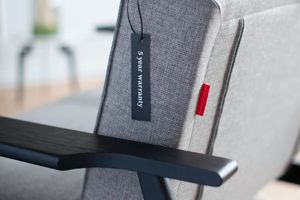 Quality and durability are the center of Innovation Living's design and production process.
They now offer 5 year warranty on all their sofas and chairs. All Innovation Living sofa beds and chairs are continuously tested against our high internal standards as well as being rigorously tested by independent accredited labs such as SGS, Intertek and Bureau Veritas to comply with industry standards for quality and durability. Here you can find their frequently asked questions and answer about the limited warranty on their products.
FAQ
Question - How long is the warranty valid?
Innovation Living:
You will have 5-year limited warranty provided by Innovation Living.
Question - What is covered under this limited warranty?
Innovation Living:
This limited warranty covers defects in materials and workmanship in the following components of the sofa beds and chairs:
- Gears and mechanisms
- Wooden frames
- Metal frames
- Spring-, latex-, or foam cores of sofa beds and chairs
This limited warranty applies to private/residential use only.
Question - How do I prove my claim?
Innovation Living:
We need a copy of the original purchase receipt as proof of your purchase together with photos/videos that clearly demonstrate the defect. Finally, we need a photo of the product label that is placed on the inside of the product. Please find the exact position of this label in the assembly instruction for your products.
Question - What will Innovation Living do to correct the problem?
Innovation Living:
The quality department of Innovation Living will examine the claim and decide, at its sole discretion, if it is covered by the limited warranty and subsequently either if it should be repaired or replaced.
If the claim is covered by the warranty, Innovation Living will cover
Read more