We're delighted to have you here!
We love working with interior designers, architects, and developers on commercial and residential projects.
We understand that each project is unique and demands a unique approach. In this regard, we discovered that the one-size-fits-all concept is not the best method to cooperate with professionals. Our To The Trade Program is simple and clear: we offer the best possible discount and payment terms suited to your unique project. Simply follow the easy steps shown below to begin saving right away!
---
Step 1
Go to the product page of choice, select all of the needed options, adjust the quantity, and then click/tap the Get a Quote button. If you need to add more items to your request, repeat this step as necessary.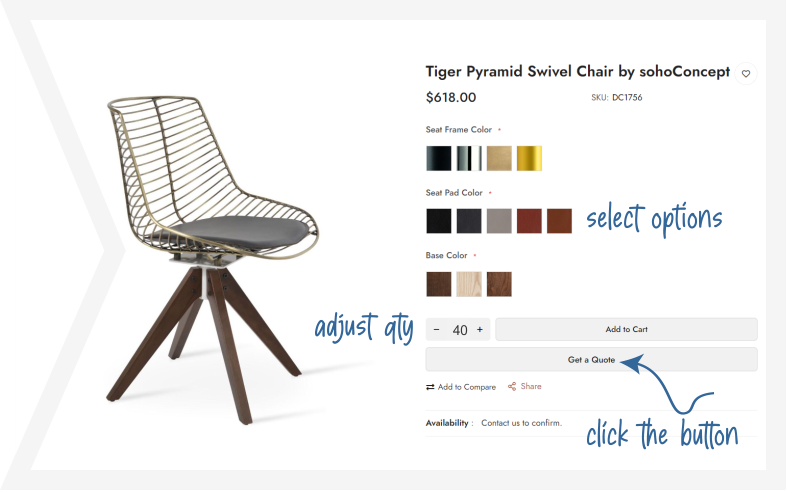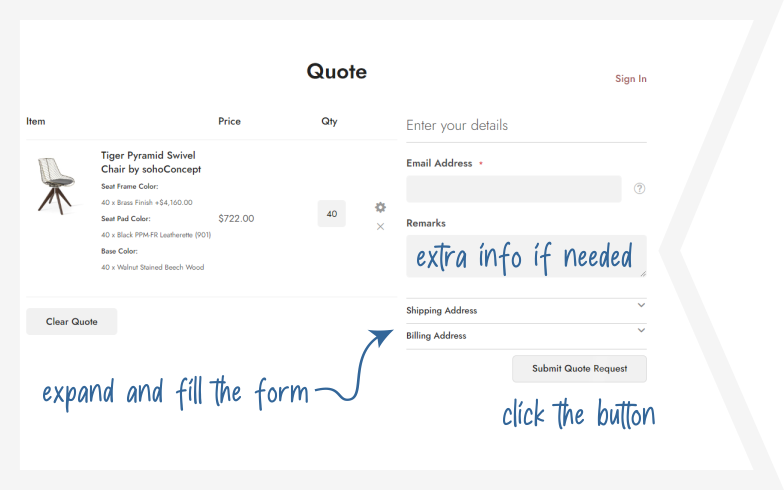 Step 2
When you finish Step 1, the system leads you to your Quote Basket, which is similar to your shopping cart. Enter your email address and shipping address here, then click the Submit Quote Request button. When you submit your quote request, a message will appear on your screen confirming that it has been received. We will also send you a confirmation email with your quotation request number. When we have finished preparing your estimate, you will receive a second email with your actual quotation and all of the accompanying details.
---
Preparing and sending your quotation usually takes a couple of hours or less. However, we may occasionally call our vendor to confirm some information, such as availability or production timetable, so it may take up to 1 or 2 business days if we need additional information.

We won't know the precise amount of your discount until we receive detailed information about your project. The discount you will receive is determined by several factors, including the amount of products, the number of delivery destinations, the deadline of your project, any special requirements you may have, and so on. When you send us your request, we promise to provide you the best possible discount and the most accurate information.

You can repeat Step 1 for as many different items as you wish before submitting your quote request. If you want multiple products as alternatives to each other (for example, different colors for the same item or various models for the same type of item), submit separate quote requests for each alternative combination.

If you are submitting a request for a project that requires split shipping to multiple locations, just include one of the delivery addresses in your request and provide a remark detailing the amount of products to be delivered to each location, ideally including zip codes.

No, you are welcome to submit your quote request as a guest. However, we highly advise you to register an account first in order to prevent inputting the same information in subsequent transactions. Having an account also allows you to view the status of your request on your account dashboard.

Your quotation's default expiration date is set at 2 weeks from the date you receive it. However, in some cases, the expiration date might be shortened or extended. The expiration date of your quotation may be seen in the email or on your account dashboard.

We are unable to reserve your products until you place your actual order. Because inventory levels fluctuate on a daily basis, the product(s) in your quotation may become out of stock at the time you place your order, even though it appears to be in stock in your quotation. The ideal approach to prevent any complications with item availability is to make your decision and submit your order as soon as possible.

Your discount is almost always applied to the total amount. Despite the fact that you see the regular pricing on each product line, the total amount shown below reflects the actual discount given to your whole quotation. If you don't notice a discount in your total cost, please see the explanation section of your quotation.

We begin working on each quote request as soon as we get it, so if you haven't gotten your quote or any notice within 2 days of submitting it, please check one of the following common causes.

Check your spam folder. Although unlikely, our email may be blocked by your spam filter in some rare cases.
Are you sure that you spelt your email address correctly? It might surprise you but the most common reason for not obtaining a response from us is misspelled email addresses.

Whatever the reason, we are always here to help, so send us an e-mail at [email protected] or text / WhatsApp (949) 444-5480 and one of our staff members will get back to you as soon as possible.

If you are holding a valid reseller certificate and purchasing products for resale, we will gladly waive the sales tax for you. Please fill out the form here and return it to us at [email protected] with your order or quotation number so that we can set up your account correctly. Please keep in mind that all resale certificate submissions are subject to verification before they are approved.
Notable Projects
Over the course of a decade, we have assisted hundreds of clients with thousands of products in achieving their objectives.
---
We purchased office chairs from Cressina and had a very positive experience. Order arrived in good condition, ETA was accurate and customer service was exceptional especially in this industry. Would definitely work with this company again.
Karyn Dismore Interiors
, Interior Designer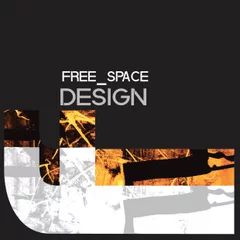 Wonderful company to do business with. As a professional designer I require a quick, reliable and efficient service from the initial sourcing and ordering process through to the white glove delivery they offer. I have completed several projects with furnishings organized and supplied by this company. Both myself and all my clients have been very impressed with the style, quality and competitive pricing of the product they offer.
Freespace Design
, Interior Designer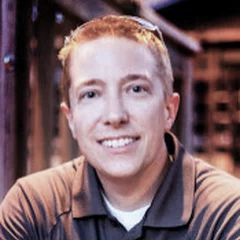 I recently ordered our contemporary chairs from Cressina. The selection from this manufacturer was extensive. The support personnel assisted me in my selection of chair style as well as the materials and colors to complete the order. The pricing was better than I found anywhere else online and the order arrived on time and there was no damage. I would certainly order from Cressina again.
Acuform Architecture
, Architect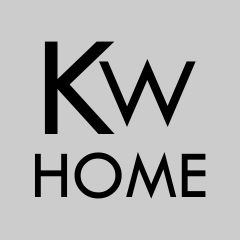 Had a terrific experience with order and delivery process for the chairs we ordered for our office. Actually received regular updates regarding the status of our order. Items arrived in great condition.
K. Wilson's Home Solutions
, Contractor